Taste of Nature, Inc., the maker of Cookie Dough Bites will start shipping NEW FLAVORS of shelf-stable Doughlish® Edible Cookie Dough to stores next week! The Chocolate Chip flavor is already on store shelves and now cookie dough lovers will be able to try both the new Birthday Cake and the new Triple Chocolate Brownie flavors!
The Doughlish® product creating a stir amongst cookie dough lovers, foodies, and those seeking an indulgent treat last year when Chocolate Chip Doughlish® hit store shelves during the Spring of 2019.
Unlike the competition, Doughlish® is not required to be Frozen or Refrigerated. By utilizing an egg-free, butter-free formula, and the use of heat-treated flour, the Doughlish® product is not only safe to eat, but it is 100% delicious!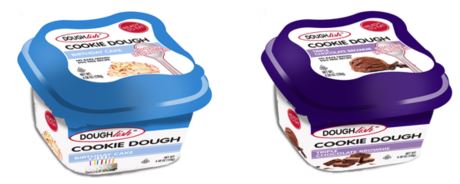 Both the Birthday Cake and Triple Chocolate Brownie Flavors of Doughlish will land on retail store shelves in February of 2020, just in time for President's Day! The product will be available in both 4.5oz resealable tubs with a handy spoon built into the lid as well as 14oz Pints. The customized tub is hermetically sealed to create a tamper-proof barrier for consumer protection as well as to lock in freshness and preserve the product for 9 months!